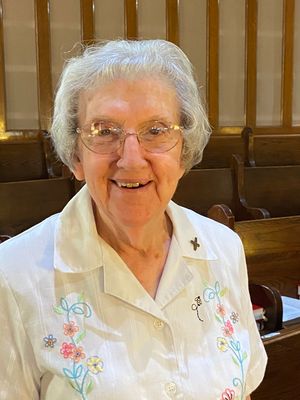 We are saddened to report that Sister Ruth will be leaving our choir and our parish after 13 years with us.  Sister Ruth grew up in Dayton and was baptized at Holy Family parish.  She became a Sister of Notre Dame de Namur in 1954.  In her early years, she worked in Arizona and other places where the Sisters served.  She was always a teacher, but she taught different grade levels.  She began with second grade.  Over the years, she taught every grade between second and eighth grade.  She sang soprano with the choir and lived next door in the apartments behind the church.  Sister Ruth is moving to live at the motherhouse for the Sisters of Notre Dame, at Mount Notre Dame in Cincinnati. 
Sister always had a kind word for everyone she meet.  She smiled warmly and sang clearly.  She loved serving in the choir and knew intimately how important music is to the liturgy.  She was a role model to all of us with her unmistakable devotion to prayer -- both vocal and silent prayer.  She joined along with every new idea tried by the choir over the years, willingly and joyfully.  The choir rallied around her.  We love her, and we will miss her.
During Mass the last couple of weeks, you may have heard something new coming from the choir loft.  It was a flute!  Emma Gabbard is our new flutist.  Despite only being with the choir for two weeks, Emma played her first solo last week.  She nailed it.  Having a flute player adds a special new sound to our choir, and we look forward to trying new things with Emma each week.  If you see her, please welcome her as we do.