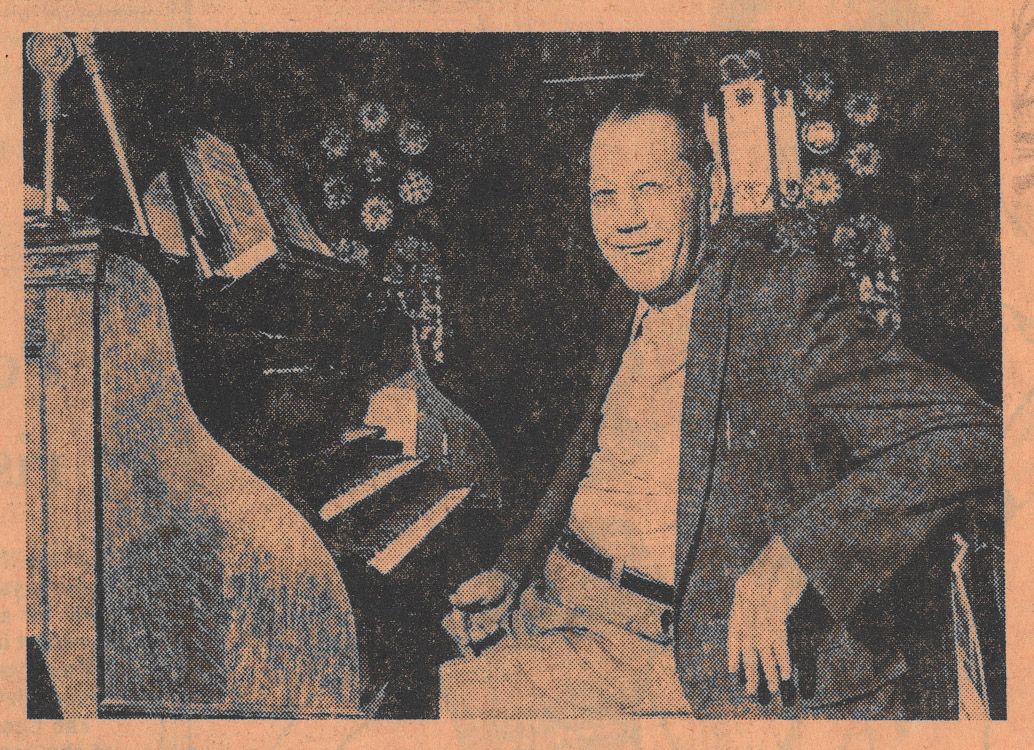 In April 1977, St. Mary's Parish celebrated the fifty-year anniversary of its Music Director, Joseph P. Geiger.  Benjamin Kline wrote a wonderful article for the Daily News, as follows:
"Joseph P. Geiger climbs the steps in the southeast tower of St. Mary's Roman Catholic Church at Xenia and Steele Avenues, opens the door to the choirloft, slides onto the oaken bench before the three-manual Austin organ and flips a Switch.
There is a ghostly hissing and shuffling noise from the upper reaches of the church as the large, shutter-like doors of the organ bellows open to feed air into its hundreds of pipes.
With just his fingertips on one of the keyboards, Geiger brings forth the melody of Charles Wesley's Protestant Easter hymn, "Christ the Lord is Risen Today."  When alone in the huge old church "between Masses and funerals," Geiger may toy with "Blue Danube Waltz" or some other secular favorite.
But mostly he favors traditional church music in the church.  And this Sunday there'll be lots of that as St. Mary's parish gathers at 3 p.m. to celebrate one of its own traditions -- Joe Geiger at the organ.
It's Geiger's Golden Jubilee -- 50 years as an organist and choirmaster, 35 of those years at St. Mary's.  "The actual anniversary was April 7 and I wasn't going to do anything with it," Geiger said during a visit in his choirloft last week.  "On my budget, it would be a piece of baloney on rye bread."
But the Rev. Kenneth W. Henz and parish leaders decided Geiger's long service is worth more than a baloney sandwich.  They've planned a Mass of Thanksgiving to be concelebrated by Father Henz and 11 other priests; special music by a choir expanded by returning former members from the usual 50 to 83, then an invitation-only dinner in Beckmeyer Hall, the social room in the church basement.
Geiger himself will be doing his favorite thing -- "pulling out all the stops to really shake this place"  -- with a Dubois fanfare, an offertory anthem called "Salve Regina" and a recessional by Franck, "O Praise Ye the Lord."
Born in West Dayton, Geiger attended St. Agnes school and the University of Dayton prep school before enrolling in the Cincinnati College of Music.  During his student days he played the organs at St. Louis, St. Theresa and Fenwick Chapel in the Queen City area.  He came back to Dayton in 1927 to become organist at St. Agnes.  To support his wife and daughter over the years, Geiger took on outside jobs, directing the 200-member Inland Children's Chorus, St. Joseph Commercial High School Chorus, St. Elizabeth Nurses' Chorus and Good Samaritan Nurses' Chorus.  He also taught 50 piano and organ students each week.
Geiger figures he has played for 2,000 weddings, 2,000 funerals and around 58,000 Masses during his years as church organist.  In the 1960s when the Catholics swung over to congregational singing in English as a result of Vatican II, it fell to Geiger to help them learn hymns.
He and his wife, Mary Louise, recently moved to a Kettering apartment where Geiger, now 68, doesn't have to worry about things like mowing the lawn.  They no longer have a piano at home but enjoy listening to records and "easy listening" music on the FM radio.  His daughter and her husband, Mr. and Mrs. Thomas Howard of Cleveland, and their two children, will be part of Sunday's celebration.
And just in case Geiger gets too wrapped up in the festivities, a sign on the door of the choirloft reminds the church custodian:  "Be Sure to Turn Organ Off.""