John Milford Rutter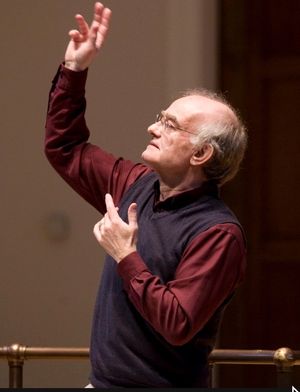 English Composer. Conductor, editor, arranger, and record producer of choral music 
Born:  September 24, 1945 London, England 
John Milford Rutter is a distinguished English conductor and composer, born Septermber 24, 1945 in London. He was educated at Clare College in Cambridge graduating with a B.A. in 1967, Music Bachelors 1968, and an M.A. in 1970. He founded the Cambridge Singers in 1981 and subsequently conducting them in an extensive repertoire. 
Rutter was the son of an industrial chemist and his wife, and grew up living over the Globe pub in London. Throughout his early education, he was a chorister and choir member. While still an undergraduate at Clare College in Cambridge he published his first composition "Shepherd's Pipe Carol" at the age of 18. 
It was in 1981 when he founded the Cambridge Singers that his composing went into high gear. He has made numerous recordings of his works with the Cambridge Singers under his own label – Collegium Records.  Rutter has gone on to earn numerous awards, accolades, and honorary degrees.
From 1985 to 1992, Rutter suffered severely from myalgic encephalomyelitis (or chronic fatigue syndrome) which restricted his writing. John Rutter's compositions are chiefly choral and include numerous Christmas carols and more 
extended works like the Gloria, the Requiem, and the Magnificat. 
"Look at the World" is, a more recent composition of Rutter's.  It is a new piece for the St. Mary's Liturgical Choir and is fast becoming one of its favorites. Published in 1996, it was written for either children's voices or SATB. The simple melody is combined with inspiring words about the small miracles of nature that surround each of us. "Look at the 
world, everything all around us; Look at the world, and marvel every day…" The beautiful harmonies in the chorus bring it to life.
If your choir would like to sing this piece, you may purchase the music from Oxford University Press.