Franz Peter Schubert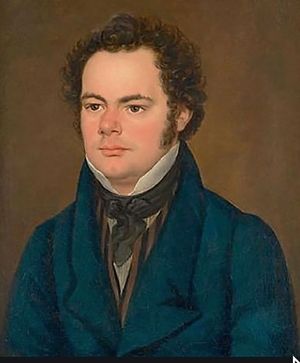 Austrian Composer 
Born:  January 31, 1797, Himmelpfortgrund, near Vienna, Austria 
Died:  November 19, 1828, in Vienna, Austria 
Buried: Schubert was buried near his mentor Beethoven 
Franz Schubert was a 19th century Austrian composer who is noted for bridging the Classical and Romantic periods. In his short lifetime, he produced several symphonies, masses, operas, chamber music, piano works, and over 600 vocal works. 
Born in 1797, Franz was the twelfth child of Franz Theodor Schubert and Maria Elizabeth Vietz. He was baptized Catholic the day after his birth, and began his music journey at a very early age. He learned piano from his older brother starting at five, then his father proceeded to give him violin lessons beginning shortly thereafter. 
Around the age of eight, his talents caught the attention of Antonio Salieri, then Vienna's leading musical authority from whom he received private lessons in music theory. Schubert was musically influenced by Hadyn and his music mentor Beethoven.  By the age of 18, he had already produced over 20,000 bars of music, for more than half of which were for orchestra, including nine church works. 
Ave Maria is one of Schubert's most beautiful and brilliantly written compositions – but it wasn't written as Ave Maria! It originated with the German title of Ellen's Gesang ("Ellen's Song") and was the third of three songs whose text is derived of a section of Sir Walter Scott's poem "The Lady of the Lake" with music composed by Schubert. The beautiful melody was then adopted for use with the traditional Roman Catholic prayer "Hail Mary". It was not written with religious practices or the Catholic Church in mind, but in Schubert's short lifetime (he died at the age of 31), Ave Maria became considered a masterpiece and found a publisher before his death. 
Because of St. Mary's particular devotion to the Blessed Virgin Mary, the Ave Maria has been a staple and mainstay for weddings, for funerals, and during the month of May. The St. Mary Choir music files contain various versions of the Ave Maria by different composers. Throughout the St. Mary choir history, it has been blest with some of the best vocal talent—typically Soprano or Tenor--to sing the classical favorite, Franz Schubert's Ave Maria. This type of composition is particularly suited for the sanctuary space.